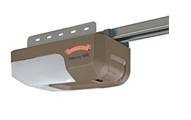 Our tractor-trailer delivers Overhead Door™ products every Monday. Mostly, these deliveries consist of special order garage doors for customers looking to improve the style of their homes.
One consistent thing is a magical pallet of electric garage door openers. Almost without fail, this glorious load of garage door openers comes off the truck and gently into our warehouse each week. Each one destined for it's right place near the ceiling in your garage.
We install upwards of 2,500 of these appliances every year. The reason they are so popular is simple. They're affordable and allow a level of convenience unmatched by just about anything else you own. Except maybe the dishwasher in my opinion.
When we put an opener on your garage door, we know we won't recieve your repeat business for about 15 years. The newest operators have been modified, engineered, and mechanically developed for reliability. Think about this. When did you last buy an appliance in the $400 range with the confidence that it could last upwards of 15 years?
Let's do some quick math!
If you divide $400 by 15 years the actual cost of the opener works out to $26.67 per year. For $26.67, you don't need to get out of the car in the rain. You get the assurance your garage door is secure. You don't need to lift the door manually.
Today's garage door openers openers have so many accessories. It's almost alarming. You can operate your door with a smart phone.
You can have a battery backup for when the power goes out. Get electronic notifications when the door is up or down. Also, see when it was opened and closed, if that information applies to your application.
Mechanically speaking, they have come a long way. First, the latest safety features ensure the opener won't cause any damage to your car or people. Many residential operators now use DC motors, which dispel the myth of noisy chain drive motors.
DC motors are so quiet! I love to run the one in our showroom for customers just to see their reaction. Heck, if you have a bedroom above your garage, a DC motor wouldn't wake you up.
Find the complete line here!
Overhead Door of Mohawk Valley™ carries all of the above. Our trained technicians install your new operator right the first time. If you find yourself interested in learning more or want some pricing on a few different types of openers, please give us a call.
Your Overhead Door™ Team