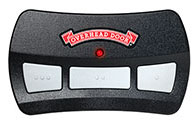 First, let us congratulate you on buying a garage door opener! You already know the convenience that appliance brings. A garage door remote control may stop working for various reasons.
Fortunately, it is an easy fix for you, the homeowner. At Overhead Door of Mohawk Valley™ , we created a quick reference guide to try to put your garage door remote back in business. If you call us for help, we ask you these questions.
Did you recently change the battery?
Always change the battery first. Much like rebooting your computer. It's the first thing we ask. There are times when doing this causes the programming to be lost.
Refer to your owner's manual for re-programming. With one of our motors, it should be as simple as pressing the Learn Code button. Then, press the button on your remote slowly until the door moves. Once it does, stop pushing the button.
Does you remote work intermittently?
If so, clean the negative terminal in the battery department. We find that the negative side of the battery compartment corrodes over time for some reason. Simply scraping the corrosion of gently with a small screwdriver or butter knife helps the battery make better contact.
When you push the button on the wall or the remote, your door only goes up a short distance. This is almost always indicative of a broken spring or cable. Take a quick look at the springs and cables. If you find anything loose or broken, please call a qualified technician.
Does the door not come down when you press the remote?
This is a safety system issue. Chances are the photo eyes at the bottom of each track are blocked or out of alignment.
Note:
You can test this by pressing and holding the wall button. If the door moves, you know for sure it's your photo eyes. Pressing and holding that wall button over-rides the photo eyes.
If they're not blocked, then you can re-align them by hand in most cases. Move them a little at a time left or right. Press the button on your remote. Once the door moves, you should be good to go.
In any case, you can always give us a call. We are well-trained in almost any garage door opener, even if not our own. In most cases, we can help you out over the phone. If the problem is less than simple, one of our factory trained technicians can always come out to help.
Your Overhead Door™ Team